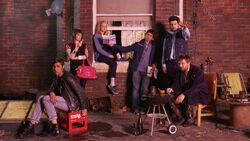 List of episodes is an episode list of the Channel 4 television series Fresh Meat which started 21 September 2011 and so far has two series with sixteen episodes.
Plot:
The plot revolves around the lives of six students who are freshers (with the exception of Howard) at the fictional Manchester Medlock University, Manchester.
They live in a shared house off-campus in Rusholme rather than university halls of residence, due to their late application.
Series 1
Edit
Episode 1.5
Episode 1.6
Episode 1.7
Episode 1.8
Series 2
Edit
Episode 2.1
Episode 2.2
Episode 2.3
Episode 2.4
Episode 2.5
Episode 2.6
Episode 2.7
Episode 2.8
Series 3
Edit
Episode 3.1
Episode 3.2
Episode 3.3
Episode 3.4 (TBA)
Episode 3.5 (TBA)
Episode 3.6 (TBA)
Episode 3.7 (TBA)
Episode 3.8 (TBA)
Ad blocker interference detected!
Wikia is a free-to-use site that makes money from advertising. We have a modified experience for viewers using ad blockers

Wikia is not accessible if you've made further modifications. Remove the custom ad blocker rule(s) and the page will load as expected.